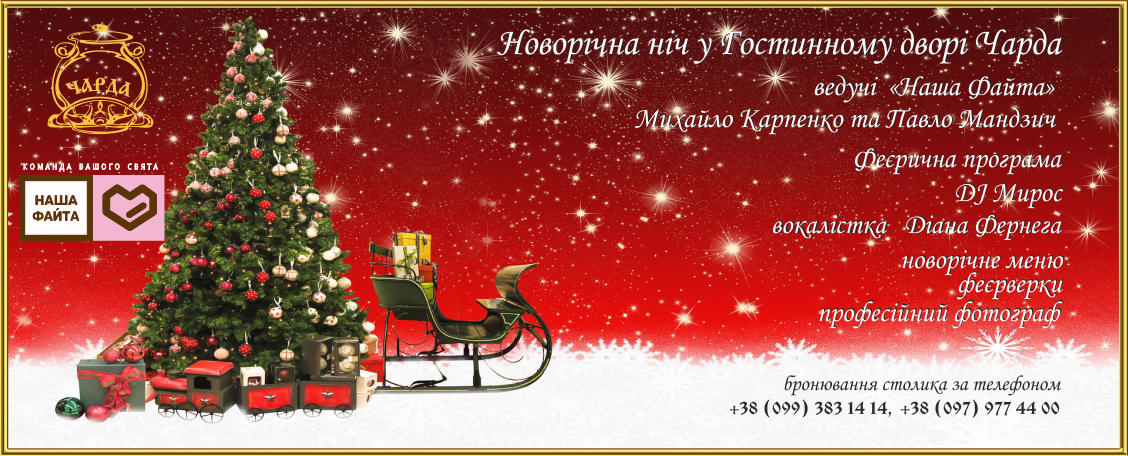 New Year`s eve in Charda: many surprises, thematic atmosphere and " NASHA FAYTA"!
There is no much time left to New Year and all actively prepare to celebrate this holiday. One of the main questions is where to celebrate New Year`s eve and how to make it unforgettable foe long time and get a lott of pleasant emotions and memories. In Charda Resort they know answer to this question – they are getting ready for New Year in very special way – with love. Everything is though, even to details: well-coordinated work of professional team, fine menu, fairytale atmosphere, gay showmens, special competitions and merriment, inflammatory music, presents and surprises, explosive energetics and incredible emotions are waiting for all who will come.
Spectacular show program from the most popular duet of showmens " Nasha Fayta" Mykhail Karpenko, Pavlo Mandzevich, Dj Miros and charming voice of professional singer – Diana Pharnega
Team of cooks of Charda Resort prepared New Year`s menu with specialties and surprises that may amaze every gourmand.
Hearing chiming of bells guests can spectate firework show.